Mix and Match!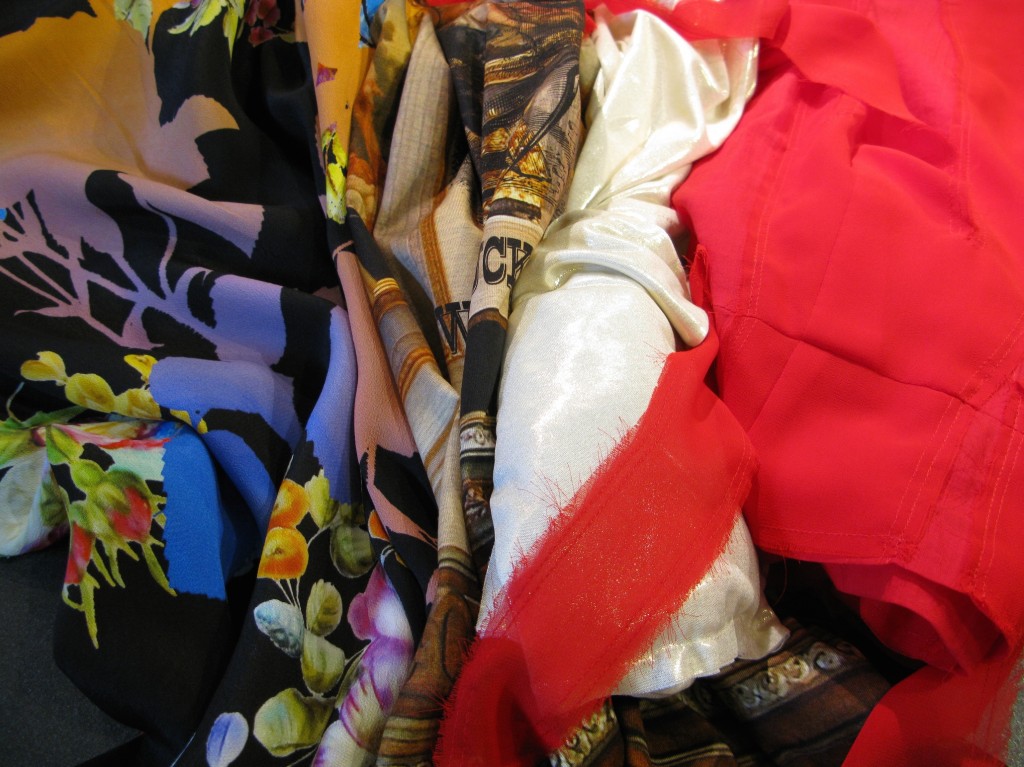 Something new in the shop?
If some days before the summer begins someone has already started to ask for the new arrivals, maybe we need to stimulate a greater curiosity about what our collections have still to say.
With the help of our tutor Sari let's try to welcome the hottest season with some of the many combinations experimented and discovered in the shop, alternative to the others already observed, maybe more suitable for the every day life, for sure not so predictable. A quick tour around the possibilities of putting together different designers, also from the past years, functional to complete with unexpected actuality the more contemporary garments.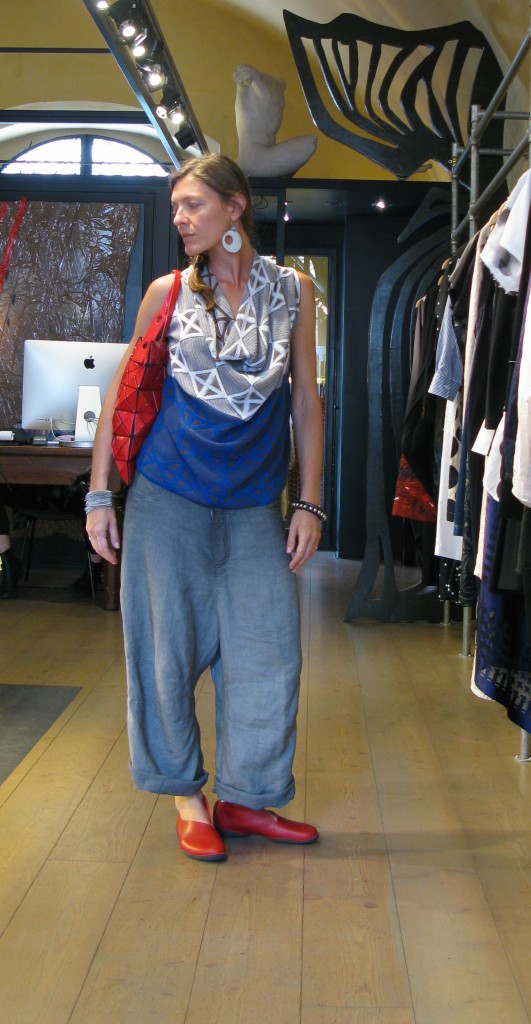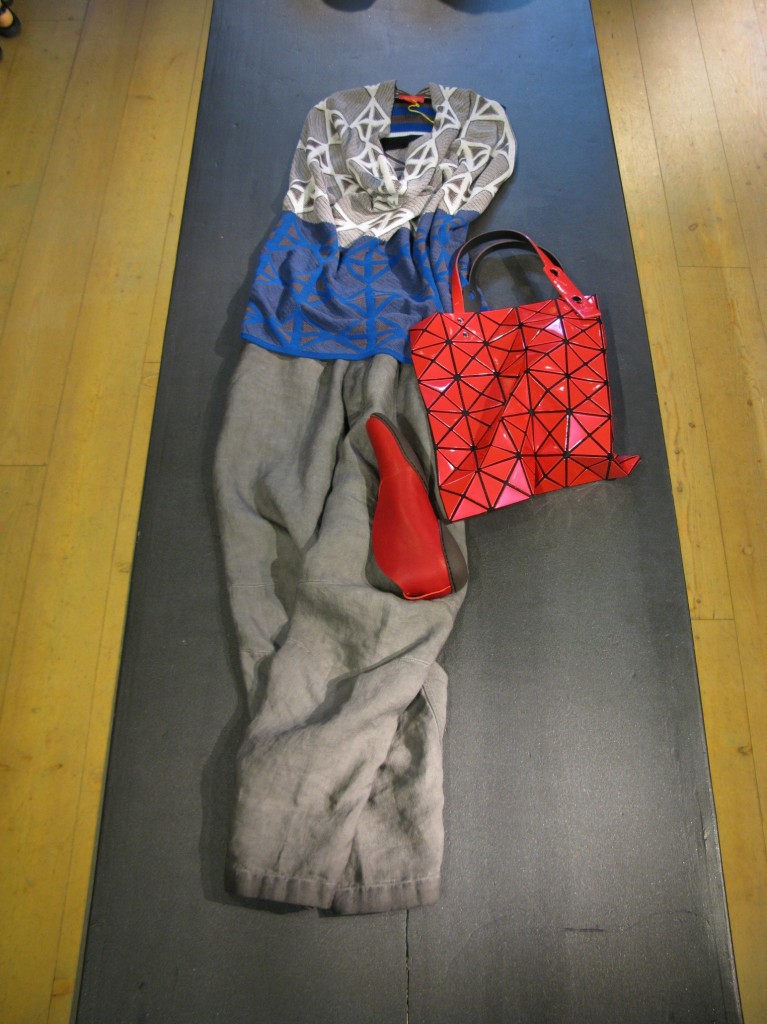 Vivienne Westwood Red Label cotton jacquard sweater with squares in different shades, draped ring collar, American shoulder, sleeveless.
Forme D'Expression 5 pockets trousers in washed and treated hemp with chromatic tone changes, horizontal parallel stitchings on the knees, button closure, belt loops, soft fit.
'Classic BaoBao' Issey Miyake squared shopping bag made of triangular plates of glossy-shining PVC repeated with origami calculations on a polyester net base, adjustable dovetailed handles, an inner pocket with zip, side 34 x 34 cm
Trippen flat shoe in flatted cowhide leather, essential line with inner edge higher on a side, two separated rubber shells sole.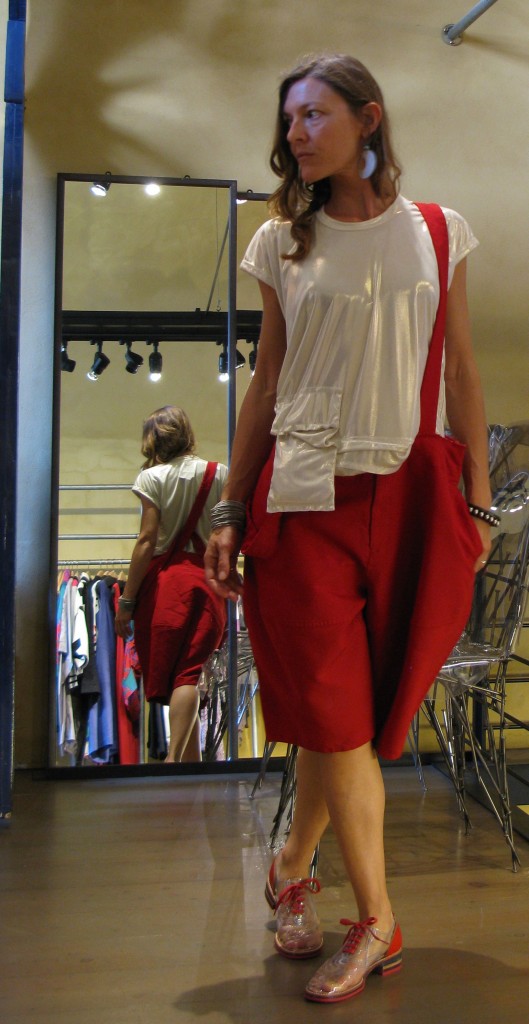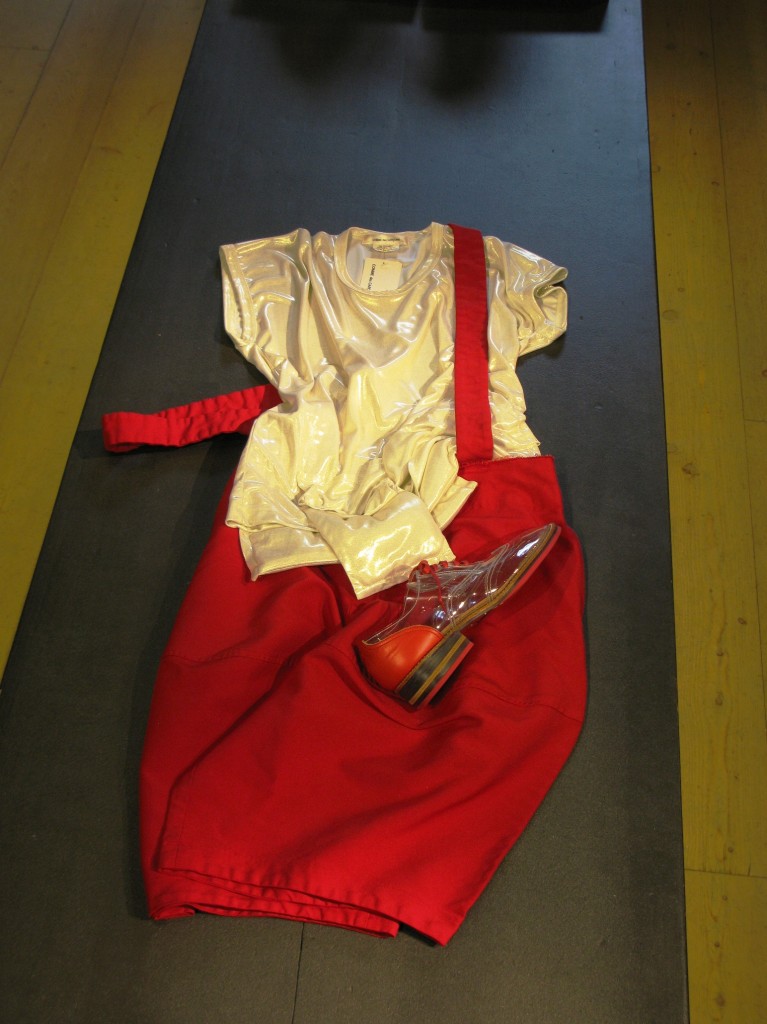 Comme des Garçons t-shirt in gold foil print polyester jersey with irregular folds and padded bands at the hem, straight shape, round neck, dropped shoulder.
Comme des Garçons knee-length divided skirt in high-tech treated polyester fabric, stitched brace, balloon line, two welt side vertical pockets, zip and button closure, cut raw frayed belt, horizontal stitching along the leg.
Zucca Oxford shoes in see-through plastic and heel protection in red leather, with strings, small perspiring holes on the front, rubber covered sole.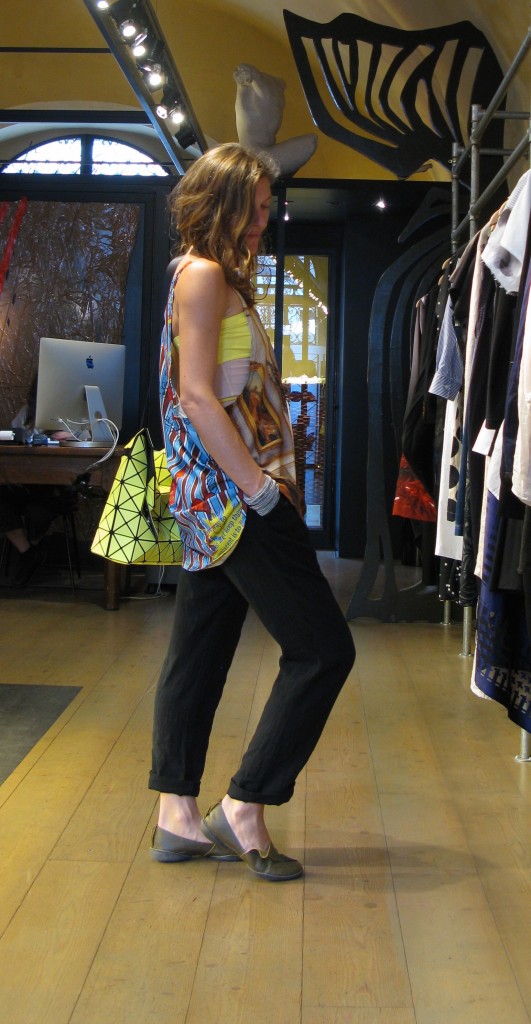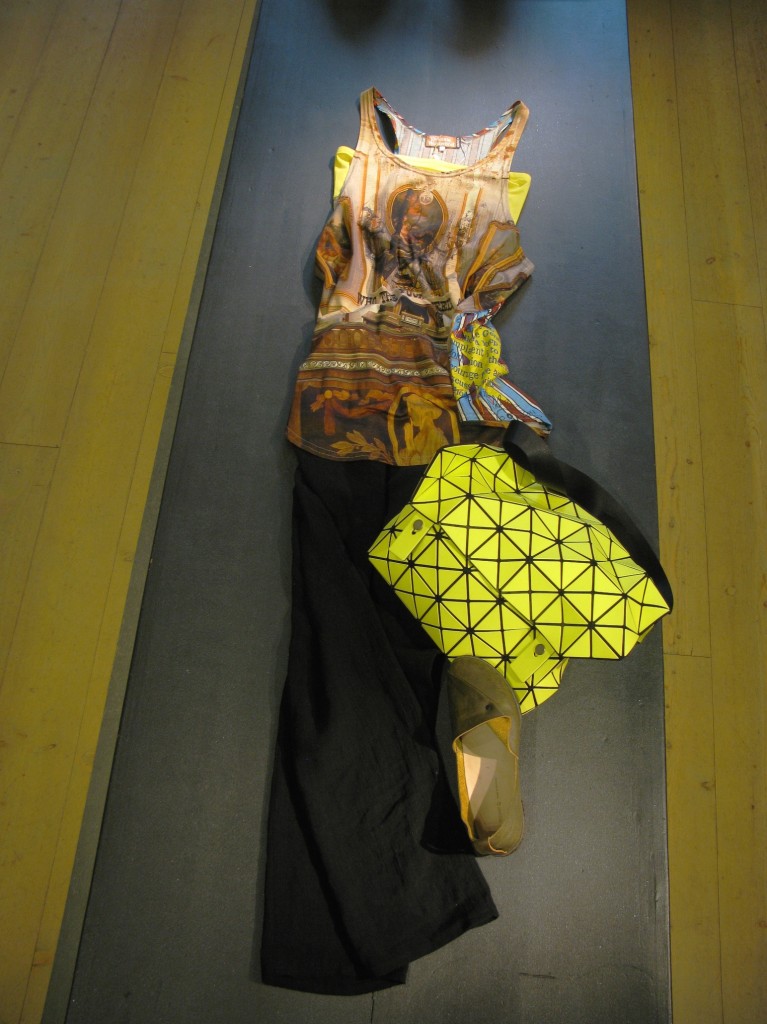 Vivienne Westwood Gold Label oversize vest in cotton jersey with 'Wallace Collection' printing on the front and stripes and comics on the back, wide rounded neck and wide armhole, narrow shoulder straps, rounded hem.
Issey Miyake stretch organzine band top with contrast tone sheer tulle band, shape fit.
Yohji Yamamoto cigarette trousers in linen and viscose etamine, zip and button closure, 2 diagonal pockets on the front, 2 patch pockets on the back, belt with adjustable buttons.
Bao Bao issued Miyake big shoulder post-bag with opaque PVC triangular plates repeated trough an origami calculation on a net and polyester canvas base, adjustable shoulder belt, snap closure with inner hook, outer zip pocket, 2 inner small pockets, l 40 cm x h 30 cm.
Trippen flat shoe in vegetable-tanned calf leather, wax finish treated, fold detail on the vamp, two cups rubber outsole.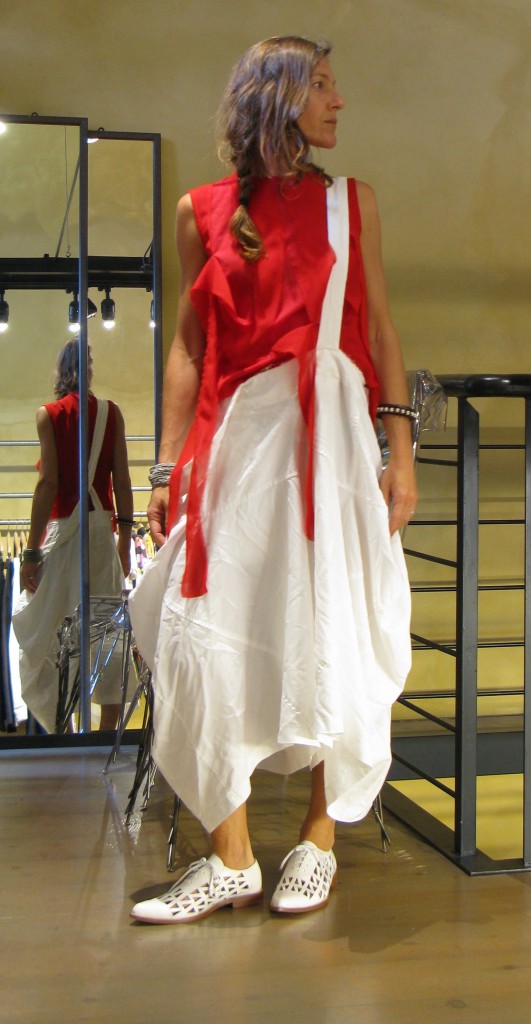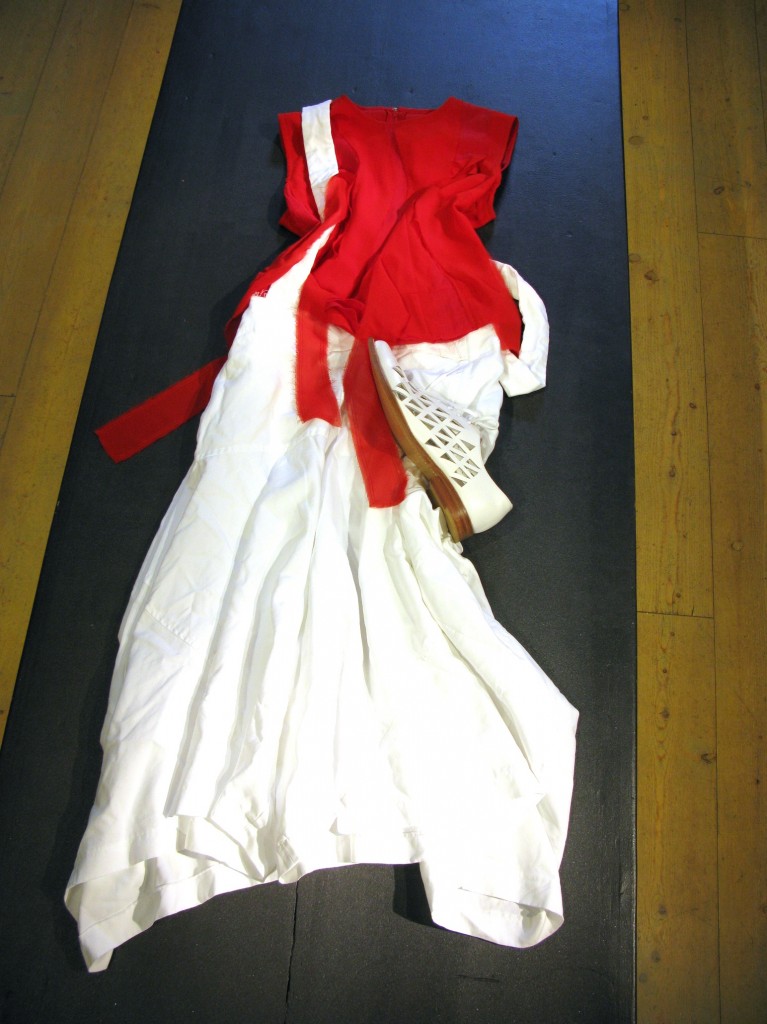 Comme des Garçons niki top with torn stripes in polyester georgette on a cotton base, crew-neck, sleeveless, central zip closure on the back and side zip, irregular hem.
Comme des Garçons technical treated polyester divided skirt, stitched brace, side draping, asymmetric stitchings, cut raw trimmings at the belt, one side vertical welt pockets on the hip, zip closure on the side.
June Watanabe man style lace up shoes in white leather with small triangles pattern perforated, pointed toe, leather sole.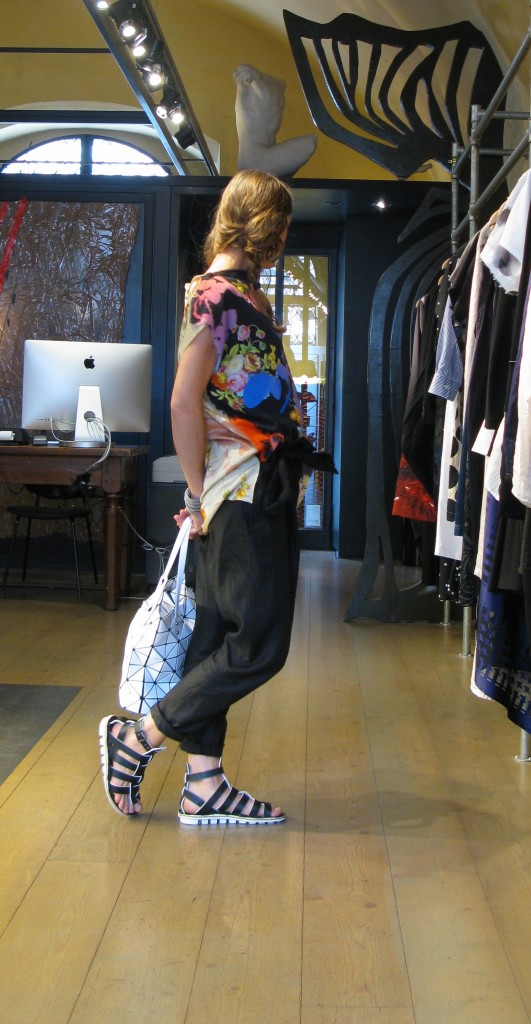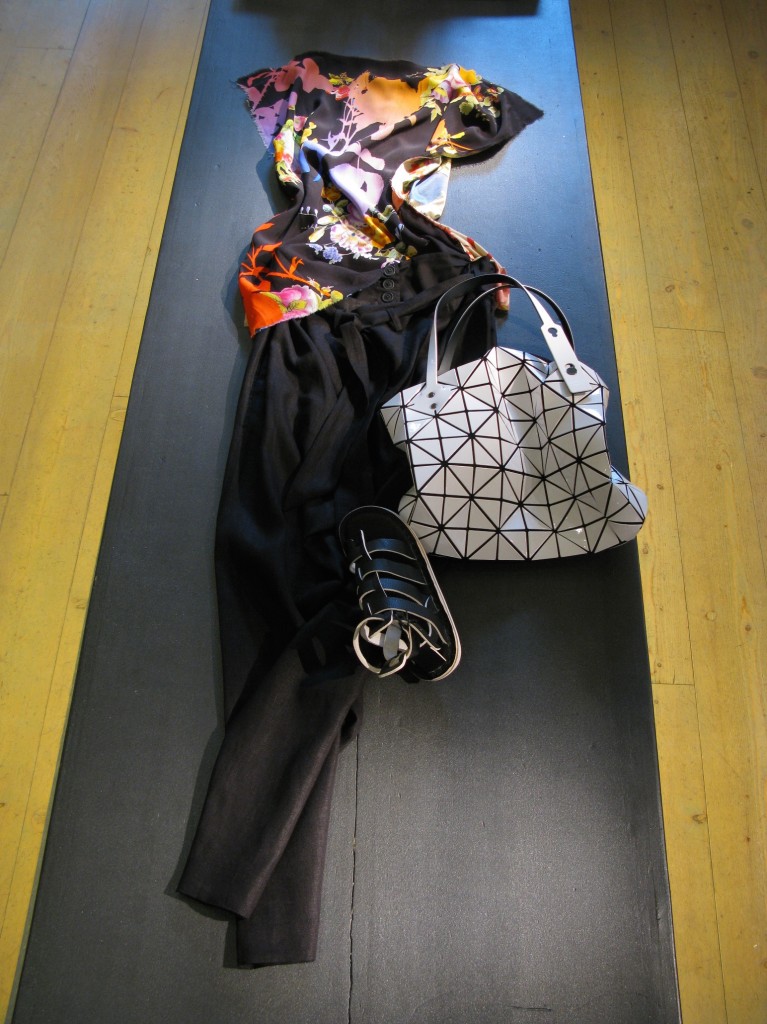 Vivienne Westwood Gold Label t-shirt made by two different fabric rectangles printed with a 'mixed-up' floral printing: one in cotton jersey, one in silk, boat neck, winglet sleeve, cut raw edgings, wearable front/back.
Vivienne Westwood Anglomania pure linen canvas trousers, curled at the belt with sash, buttons closure, two vertical welt pockets, medium width leg.
Bao Bao Issey Miyake rectangular shoulder bag with glossy PVC triangular plates repeated trough an origami calculation on a net and polyester canvas base, double adjustable handle, 3 inner small pockets, zip closure, smooth bottom with 4 metal plates, l 41 cm x h 28 cm.
Trippen thong sandal with elk soft leather strings interlaced till the ankle, side strap closure, rubber rounded sole in contrasting colour.
Photography by Sari Milan.