But we could also say "young prospects!" to introduce that curious collaboration between the proactive enthusiasm of a group of twenty-year-olds, lovers of photography, music, art and the long IVO MILAN clothing sector experience.
The Mood Board, creators of the new-born blog of the same name, have involved shop staff in an experimental shooting with which to start trying their hands at a yet unexplored area for them: fashion
Easily deceptive, full of crossed wires and stereotyped references, the label does not really match the long, well-rooted IVO MILAN tradition in its search for clothes and shapes that are far from any obsolete seasonal trend; thus, inevitably, differences of opinion but, above all, that fatal question:
how do others see us?
Seeing how young our collaborators are, they probably won't give us the most articulate, aware answer. But that is no reason to discard such a young point of view, open to comparison, to accepting criticism and advice and to defending its green, passionate skills.
So we'll leave you with The Mood Board shots and views of our outfits and their personal, original interpretation.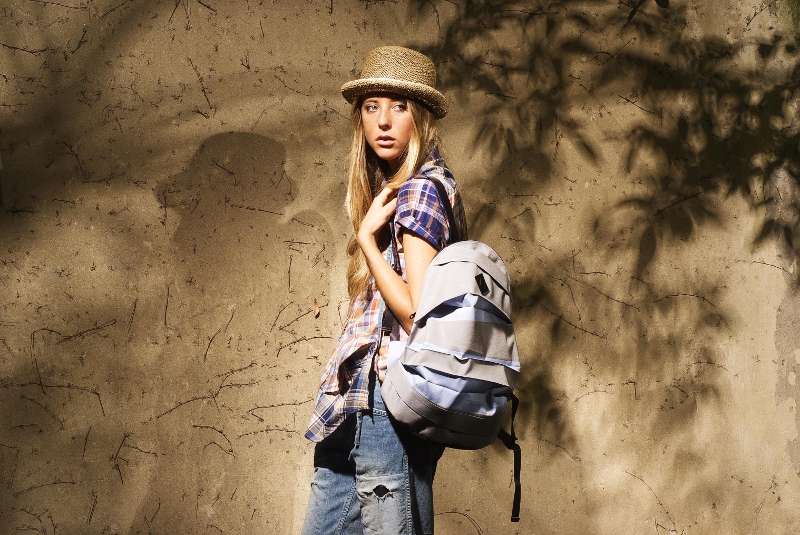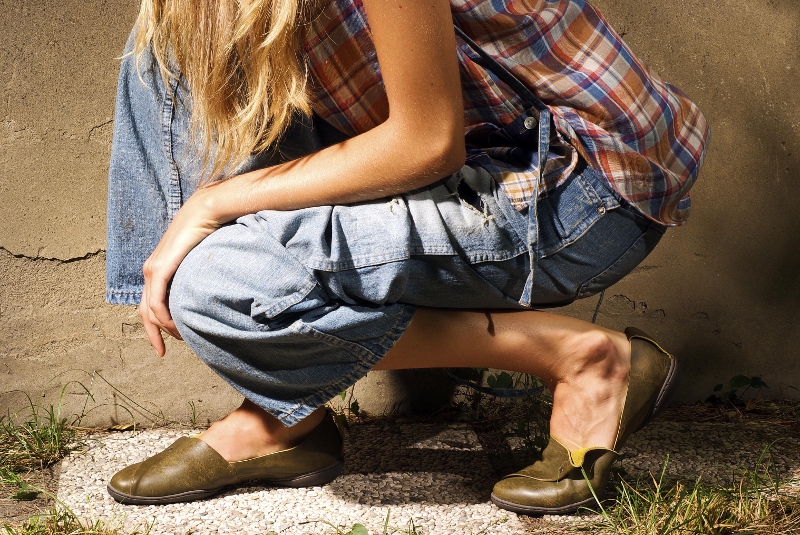 Enrica Breda is wearing:
Scha, soft crocheted foldable variation of the Panama hat in toquilla straw
patch of cotton indian checks Y's Yohji Yamamoto shirt with a shorter front side and a straight panel at the hem, side buttoned, pointed collar, button fastening, short sleeves with row cut hem, double pleat at the joke, rounded hem
Johnbull jeans in a distressed wash and bleach denim with tears, relaxed fit, boot leg, button detachable suspender, waistband with belt loops, button fastening, classic five pocket style, adjustable buckle tab at rear
wide pleated and contrast colour printed polyester Pleats Please-Issey Miyake rucksack, padded polyester net back and bottom, zip fastening, top handle, adjustable straps, interior zipped pocket
Trippen ballerina in vegetable-tanned calf leather, wax finish treated, fold detail on the vamp, two cups rubber outsole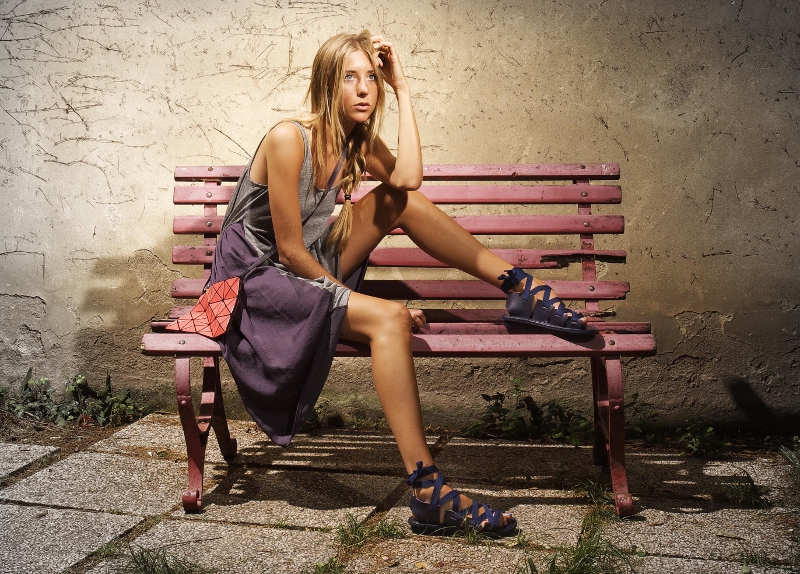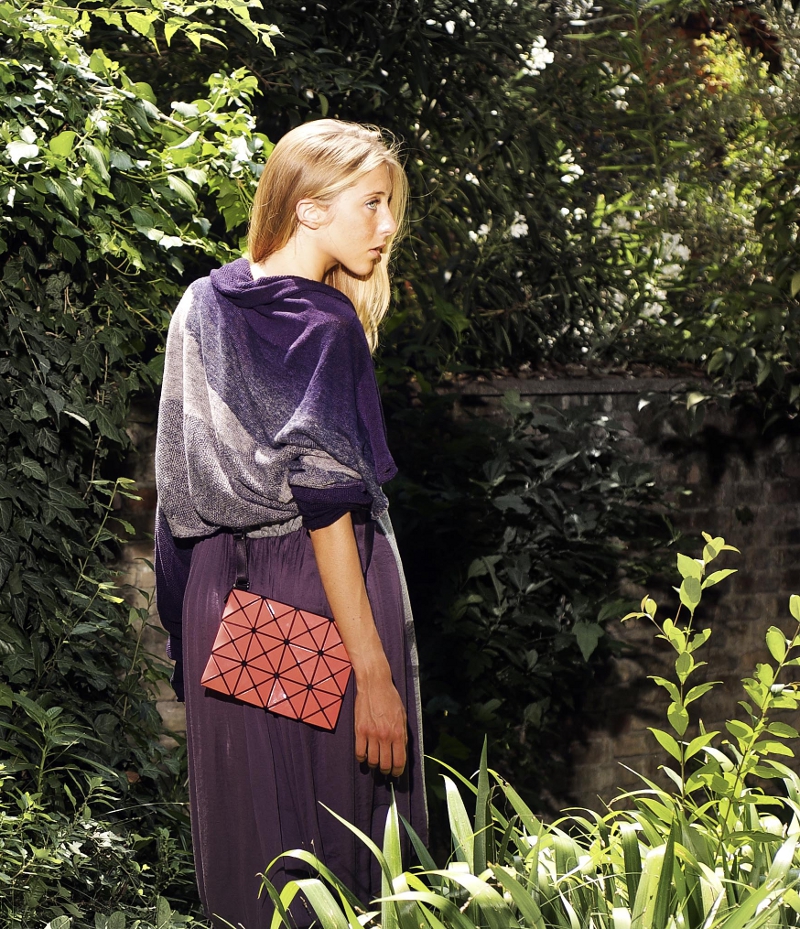 Johnbull bi-fabric dress with "ARMY" graphic faded print, front and back top in cotton and polyester jersey, sides and back skirt in light rayon and polyester satin, wide round neck, sleeveless, waist gathered at rear, curved hem, longer at the back
Johnbull cardigan in knit linen jacquard camouflage design, purple dye in lower part of bust and sleeves, v neck, button fastening, relaxed fit
Bao Bao Issey Miyake make-up purse in multicolor flexible glossy PVC triangles, zip closure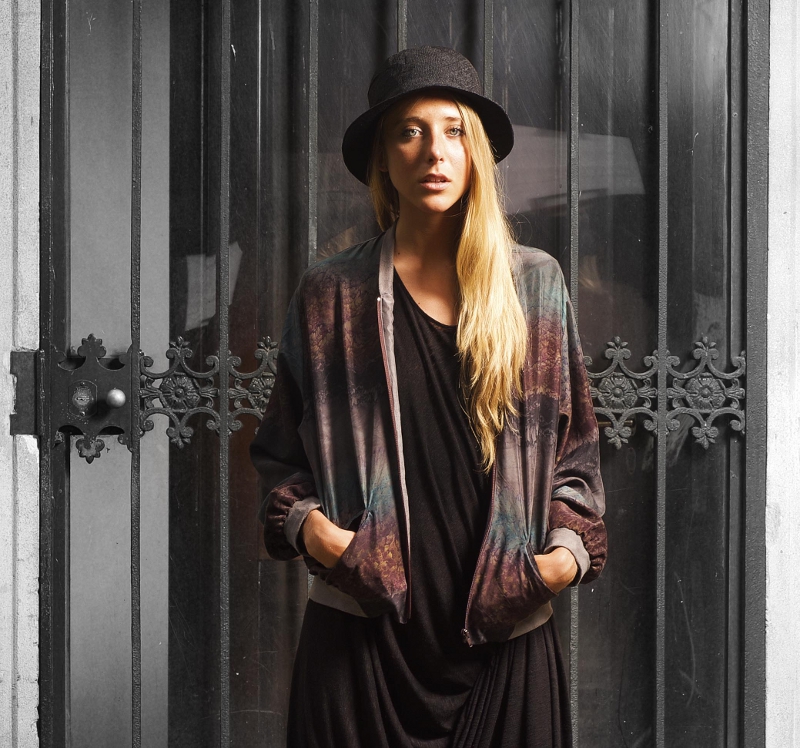 limited edition Scha hat in vintage quality, very fine weave sisal double layers, soft and ultralight, small brim, pliable wire in the edge
Katrien Van Hecke oversize bomber jacket in hand dye silk crepe, print realized with airbrush and natural colours come from spices and herbs, front zip fastening, collar and hem band in knit ribbed hemp blend, slanted welt pockets, silk lining
viscose and linen Forme d'Expression jersey dress, bias cut, skirt with slanted draped detail at front and back, low round neck, sleeveless, one side shorter, curved hem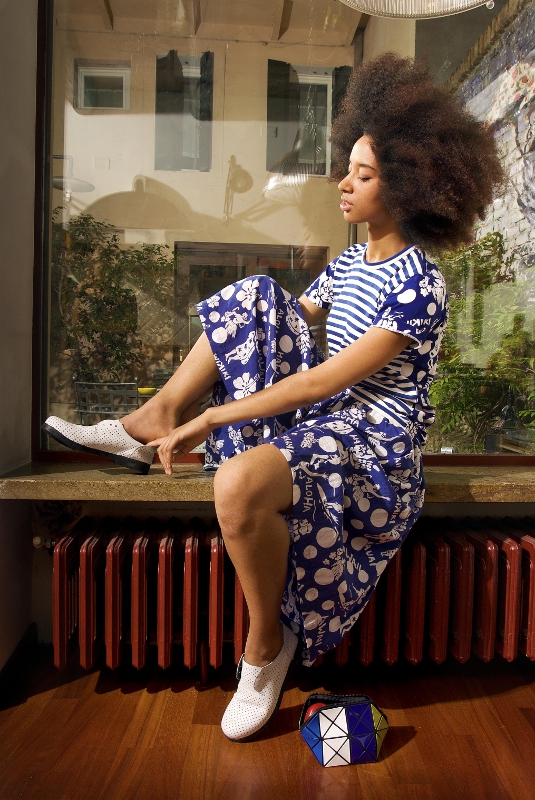 Jiois Ga is wearing:
Comme des Garçons-Comme des Garçons cotton jersey t-shirt with striped front and Hawaiian pattern printed on sleeves and back, garment washed, round neck, short sleeves
Comme des Garçons-Comme des Garçons skirt culottes in Hawaiian pattern printed rexcell, garment washed, elasticated with inner drawstring waistband, sides pocket, unbalanced hem, wearable like a skirt in the wide leg with shorter leg out
Marsèll "goccia" classic man style shoe, featuring a perforated leather and no lace open front
Bao Bao Issey Miyake make-up purse in multicolor flexible glossy PVC triangles, zip closure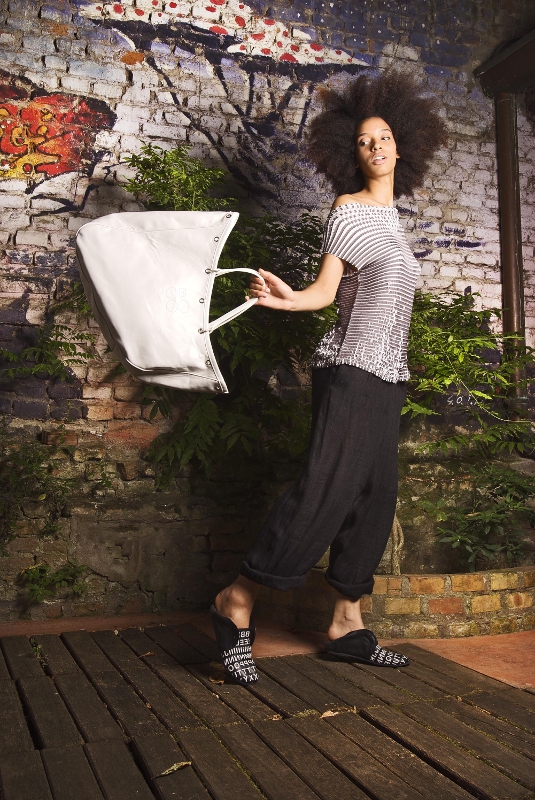 Issey Miyake boxy top in grid pleated polyester with colored surface print, three dimensional effect, as it is worn or touch the pleated cubes open and reveal colour contrast, boat neck, dropped shoulder
Forme d'Expression wide pants in light washed grainy linen, barrel-shaped, extra drop crotch, waistband with tab and button, button concealed fastening, front sides double pleat, sides slit pocket, wide welt pockets at rear
Marsèll "goccia" treated kangaroo leather lace-up style shoes, screen printing letters at front, no lace, rubber heel
The Beatles-Comme des Garçons synthetic leather bucked bag with outer top embossed apple logo detail, asymmetric shape, two short top handles, side press stud fastening, two internal zipped pockets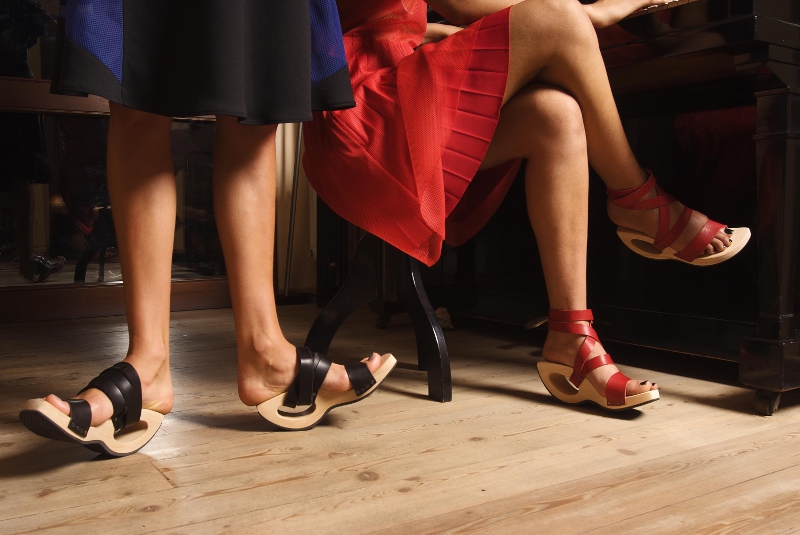 From left:
Junya Watanabe dress in smooth polyester with mesh curved inserts pattern in contrast tone, wide funnel neck with zip fastening, front bodice with sides embossed detail, short kimono sleeves, fitted waist, slightly flared skirt, knee length
Trippen cross leather bands sandal, velcro fastening at the ankle, see through wooden wedge heel
Junya Watanabe dress made up of polyester double cloth top in two colour and pleated skirt with polyester mesh overlay, sheer bust, scoop neck, sleeveless, above knee length
Trippen cross leather bands sandal, velcro fastening at the ankle, see through wooden wedge heel
Photographs by: Furio Marco Magliani
Contacts:  Tommaso Dalla Libera
Models: Enrica Breda e Jiois Ga
Read More