Norwegian Rain – Rain, wind and tous les jours…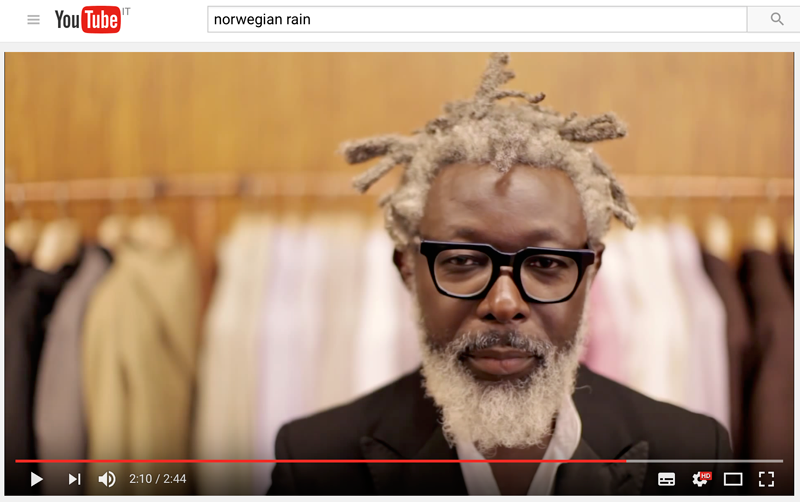 It's Norway the homeland of a brand that, even in its name, reveals without surprises its undoubted roots: Norwegian Rain!
An unisex product, which in the apparent classicism of the forms combines basic features for both cold and rainy climates. The canvases, strictly made of recycled Japanese polyester, are simulating the typical texture of traditional materials, such as wool gabardine, and do not reveal highly sophisticated and modern properties, such as the inner diaphragm, which guarantees to each raincoat to be both breathable and waterproof. The sealed seams prevent the water from intruding into the fearsome joints, allowing a peaceful freedom, regardless the worst downpours.
It lies precisely in this discrete translation of the high-tech garment, usually characterized by colored zippers or improbable reflective graphics and relegated to the most technical sportswear sector, in an elegant outwear, the most fascinating aspect of this Norwegian reality.
Is the modernity of a northern European language sensitive to aesthetics, grateful to the Japanese formal knowledge which is easily traced in the ongoing article, the Raincho, a garment halfway between the cape and the development of the kimono. Contribute to the complexity of the calm lines, details such as generous interior pockets, with the purpose of sheltering the vulnerable accessories, from wallets to phones, adjustable caps in amplitude with composed webbing and buttons, small panels that can replace bulky scarves, concealed zip pockets, always useful to not soak the necessary and in case you want to give up the use of the bag.
Norwegian Rain faces the everyday life with real prospects, but also with an original determination to integrate with the most complex and creative proposals of the great contemporary designers!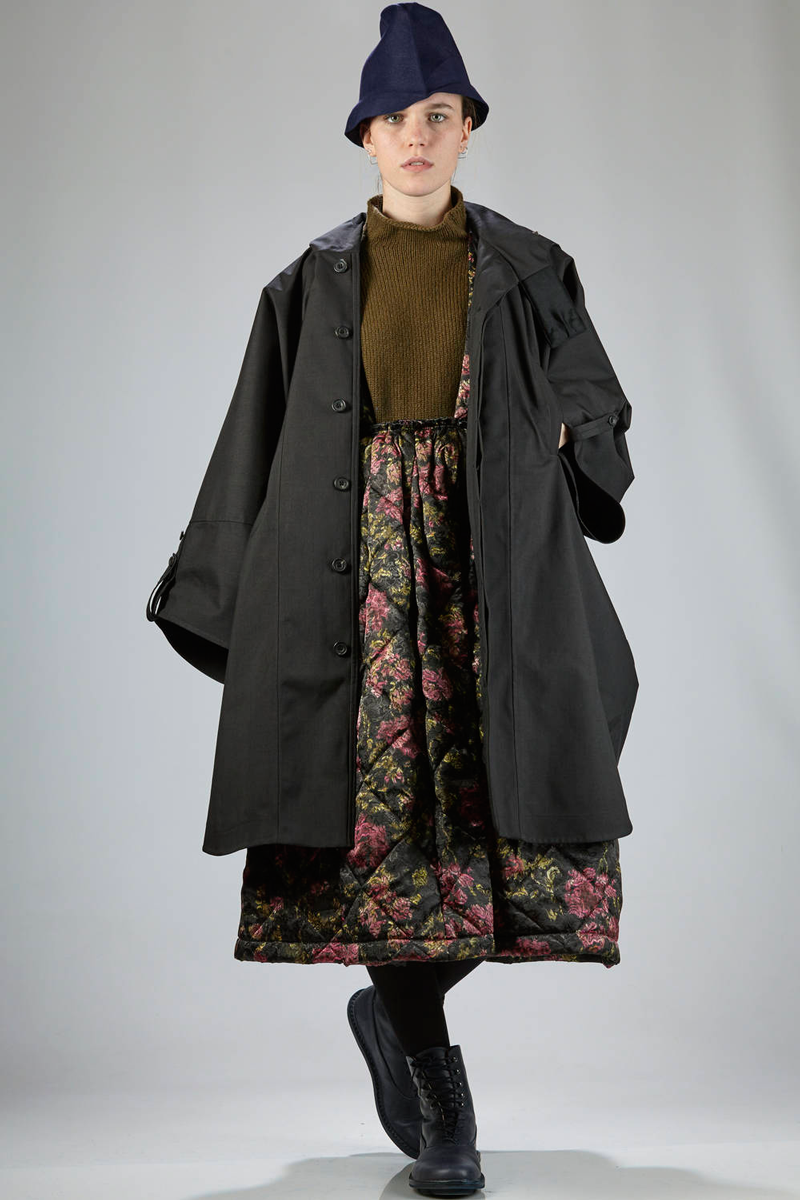 Wide Norwegian Rain waterproof coat with the shape of a cape in recycled polyester cloth, lined in viscose and polyester cloth
Hip-lenght A punto B sweater in cashmere cloth
Wide lined Comme des Garçons skirt in polyester matelassè with floral tapestry
Mascha 'classic Trippen' ankle boot in cowhide leather
Altalen hat in felt 100% lapin
Knee-lenght Norwegian Rain waterproof coat in recycled cloth lined in viscose and polyester cloth
Long and wide Boboutic cardigan in polyamide and extra fine merinos wool cloth worked with irregular knots
Classic Comme des Garçons man shirt in cotton poplin
Classic Comme des Garçons – Comme des Garçons man trousers in wool gabardine, cupro lined
Dippy Trippen Shoe in smooth cowhide leather
Knee-lenght Norwegian Rain waterproof coat in recycled polyester cloth, lined in viscose and polyester cloth
Zucca longuette dress in stretch, nylon and alpaca
Mascha 'classic Trippen' ankle boot in cowhide leather