The bitter cold of recent days might just be an excellent opportunity to stock up on exceptional winter clothing items. Prices are not only discounted but, until 9:00 am Tuesday, February 14, shipping is free! Here is a titillating selection from the Padua store…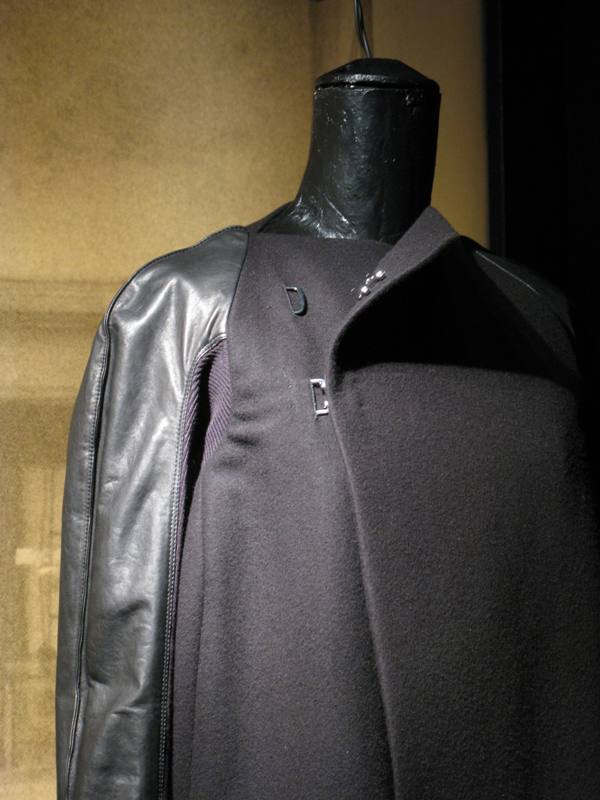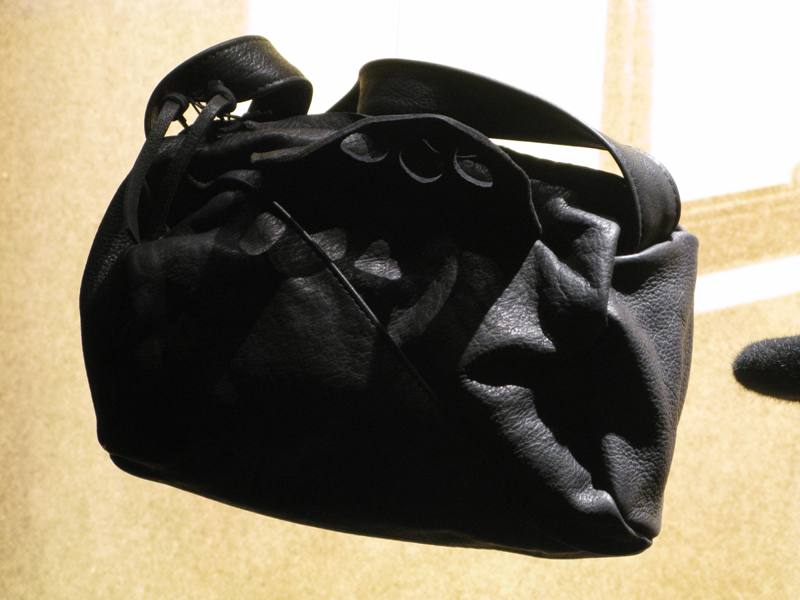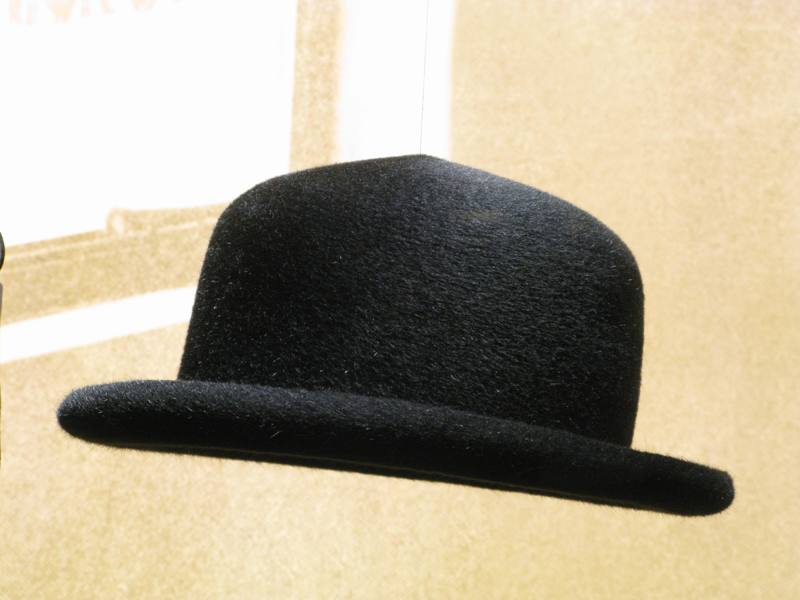 Junya Watanabe outfit…imitation fox fur cropped coat, and side draped knit dress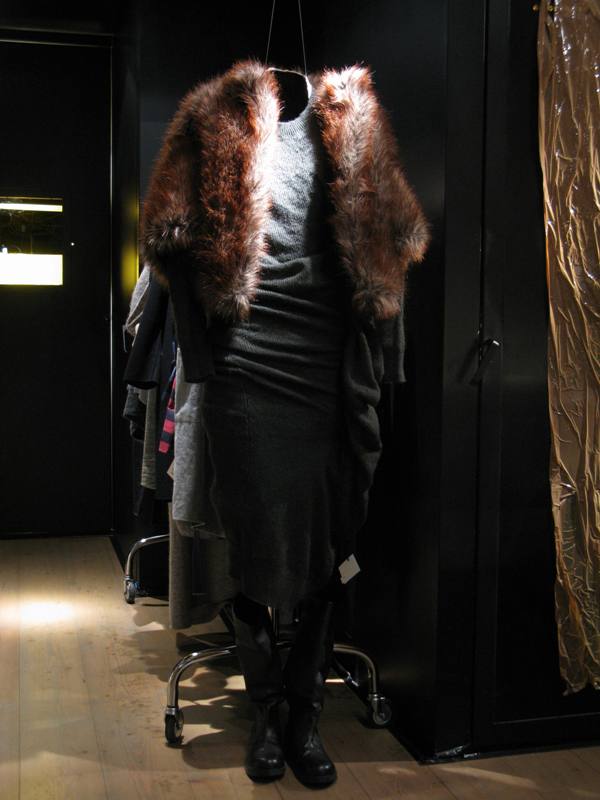 Chanel style wool jacket by Sacai and lace-up Comme des Garçons shoe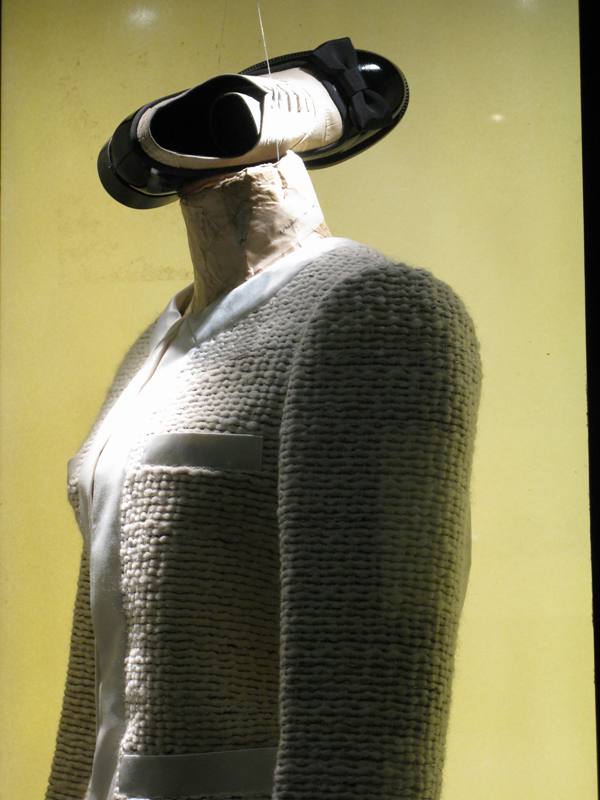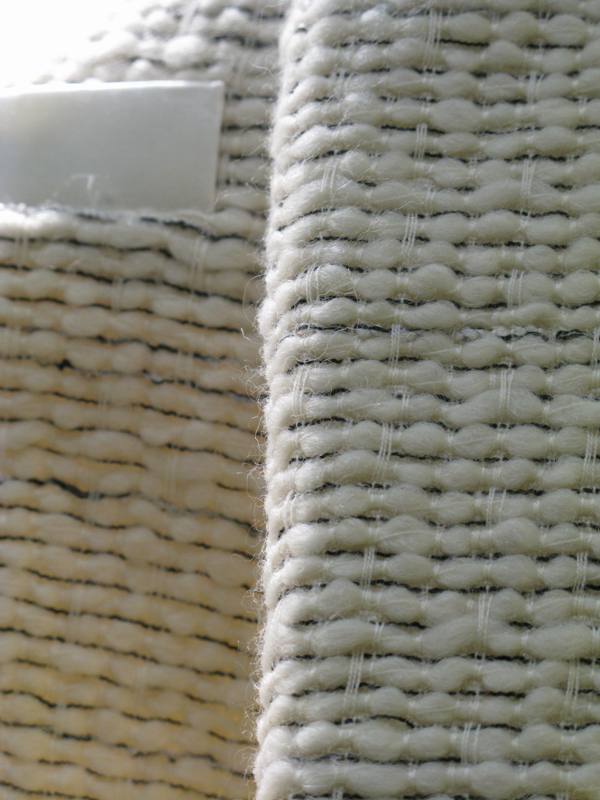 Pleats Please Outfit:  pleated hooded waistcoat and pleatet imitation flannel jacket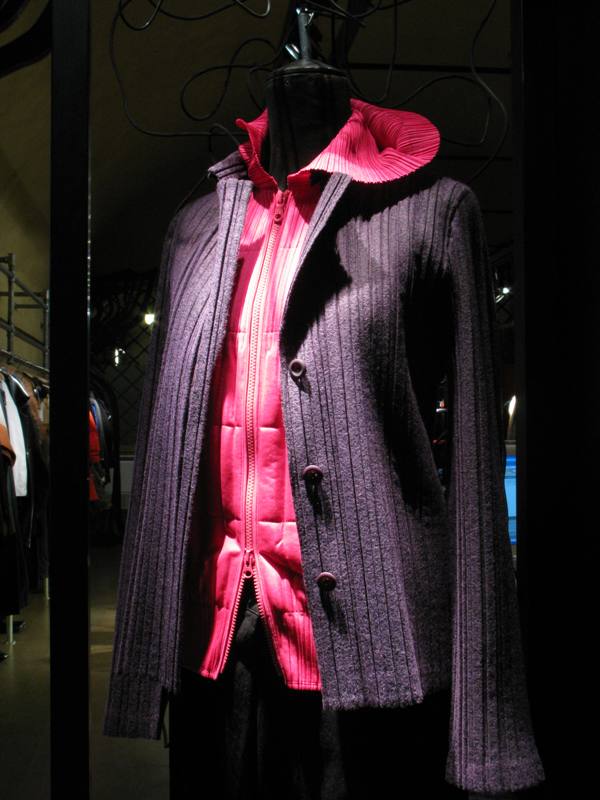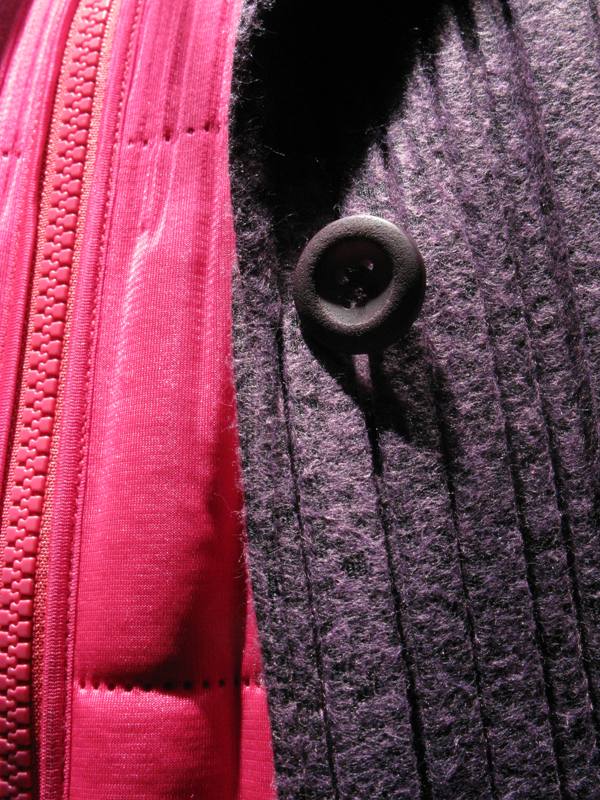 Artistic graffiti shoes, by Marsell "goccia"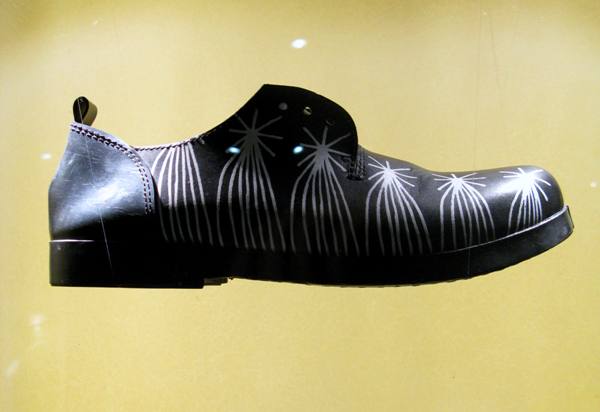 Accessories…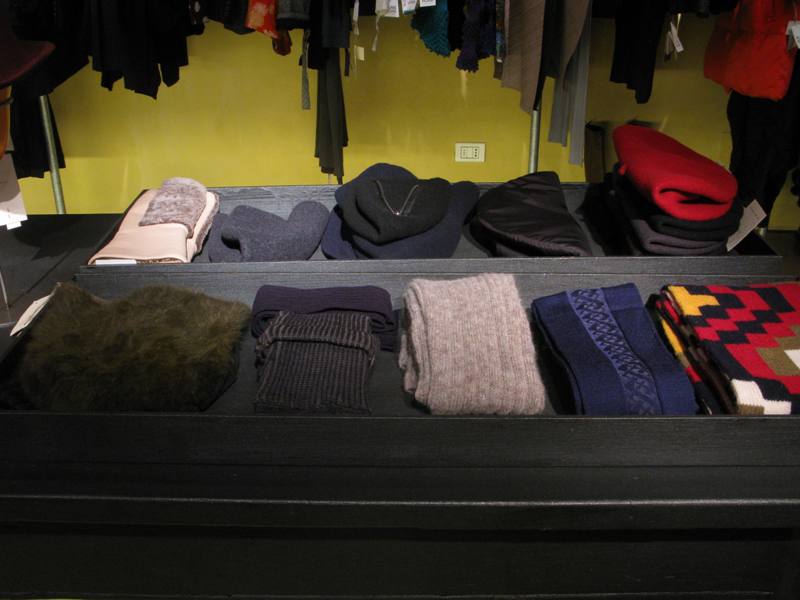 Hats…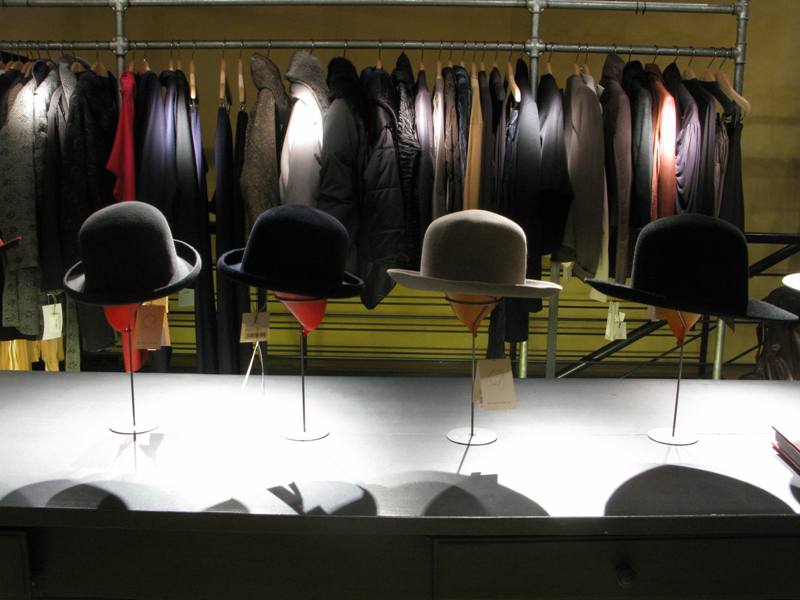 …and then, Sari, the photographer!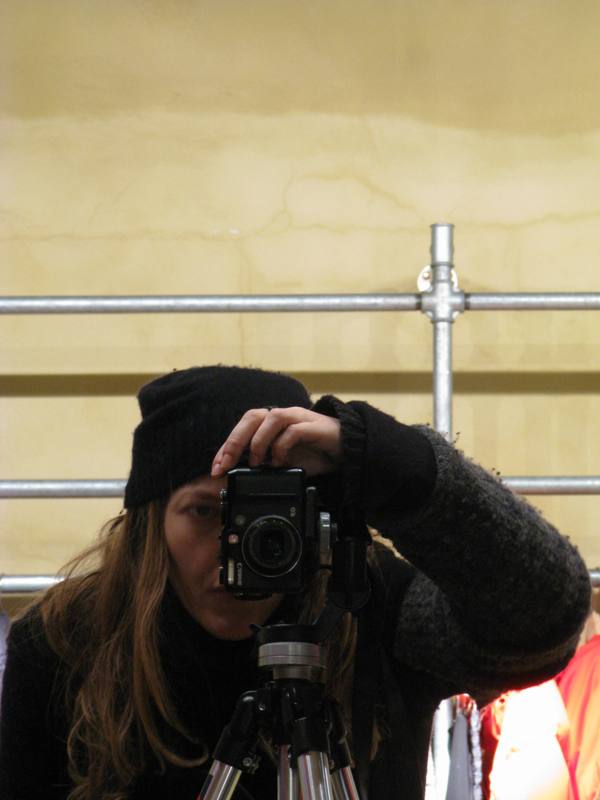 Read More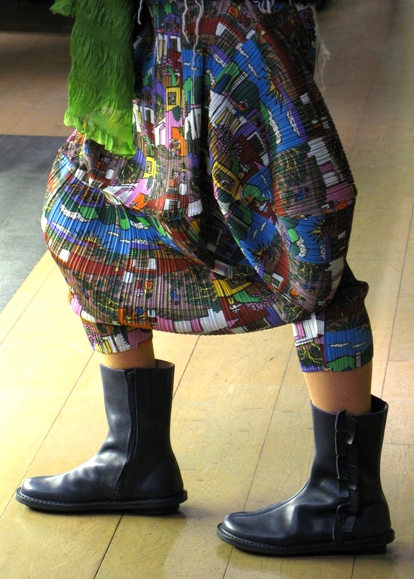 The title chosen for the Pleats Please winter collection is a tribute to the work of the most prominent Mexican architect, Luis Barragàn.
Abstract shapes and lively multicoloured designs on bags, trousers, dresses and sweaters strongly recall that lush and surreal Mexico interpreted by the architecture of the master from Jalisco. The vast wall surfaces painted with bright colors, often crossed by unexpected cracks that offer glimpses of fountains of crystal clear water, are echoed by Issey Miyake's most famous pleats.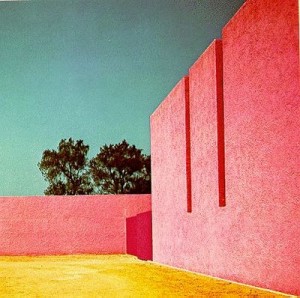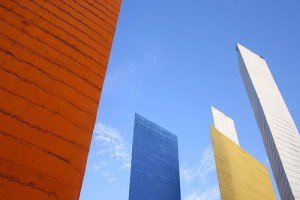 The designer has always personally designed Pleats Please, a range which has always been the subject of his most joyous fantasies. Every season it is devolped by following a guiding theme. If, in the past, the most representative paintings of the Italian Renaissance embraced the entire silhouette in the form of dresses and t-shirts, now the inspiration is clearly Barragàn's Mexico.
The deep pink of flourishing tropical bougainvillea, the yellow gold of the earth and the bright local houses, or the crisp blue of the cloudless sky and the sparkling blue of the clear waters, dissolve in the volumes of clothing and accessories in high-tech textiles.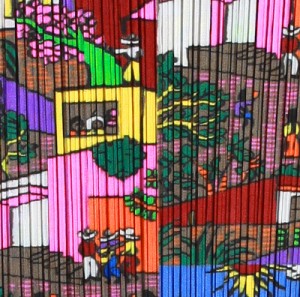 In fact, each garment is initially cut and sewn on flat fabric, it is only later, thanks to the extremely advanced techniques that have been patented by the well-known Japanese Maison, that it undergoes the pleating process. In addition to allowing extreme volumetric plasticity, this unique pleating remains intact over time. It is so practical that it can be machine washed and transported anywhere, as it always keeps its shape.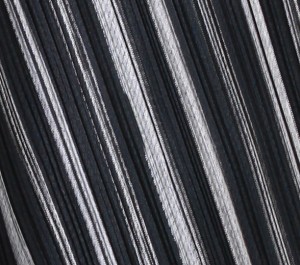 A timeless, poetic product, Pleats Please gives its best when mixed with other suppliers, by completing them with surprising harmony.
Below, a sequence of outfits, from the Ivo Milan's shop, worn by Sari and Elena.
First outfit: 'blue/grey' hat Nafi; 'musk green' overcoat and 'olive' scarf Volga Volga; 'blue pink' t-shirt Cauliflower; 'cornflower' skirt Pleats Please; 'black' boot Trippen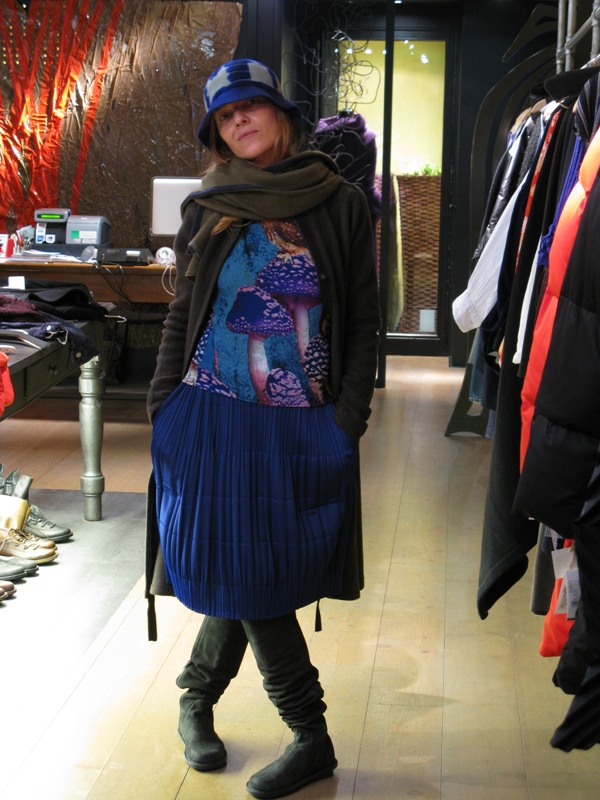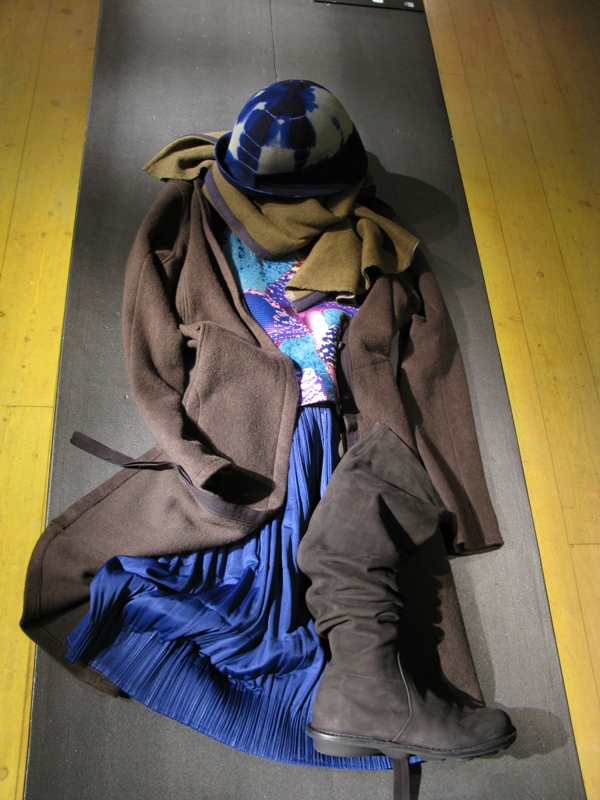 Second outfit: 'orange' padded hooded gilet Pleats Please; 'musk green' overcoat Volga Volga; 'blue pink' t-shirt Cauliflower; 'cornflower' skirt Pleats Please; 'black' boot Trippen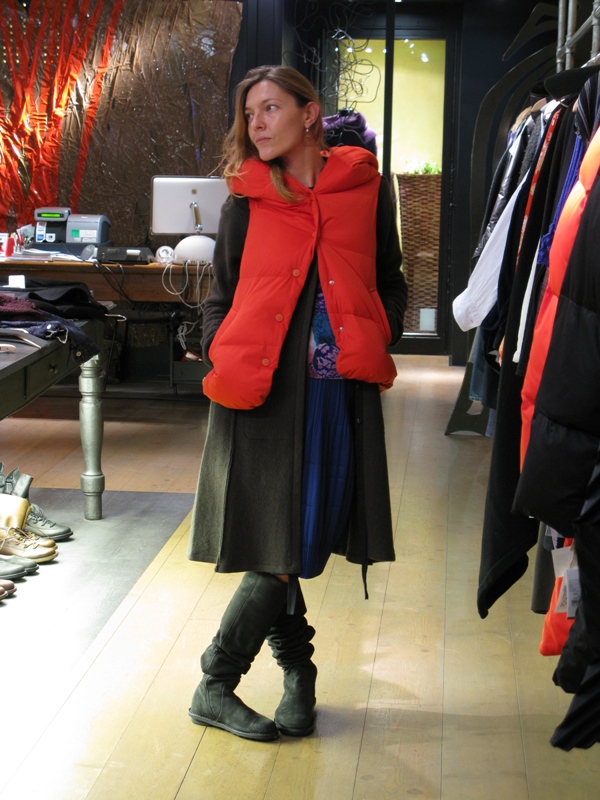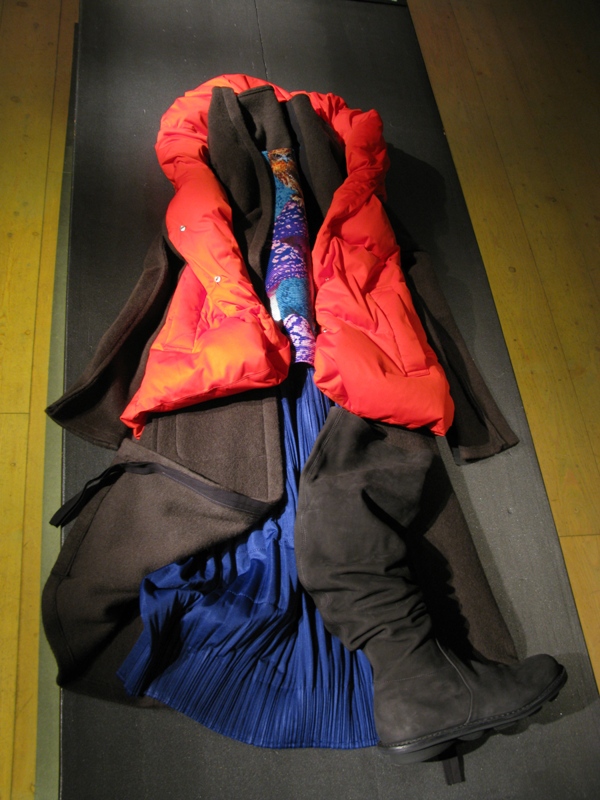 Third outfit: 'beige' hat Scha; 'blue' asymmetric sweater Oyuna; 'beige' pants Pleats Please; 'black/white' Marsèll "goccia"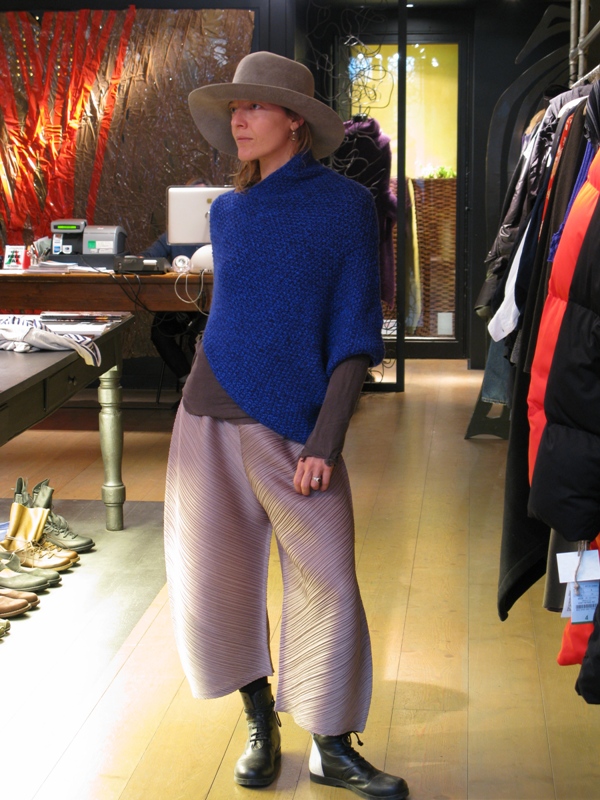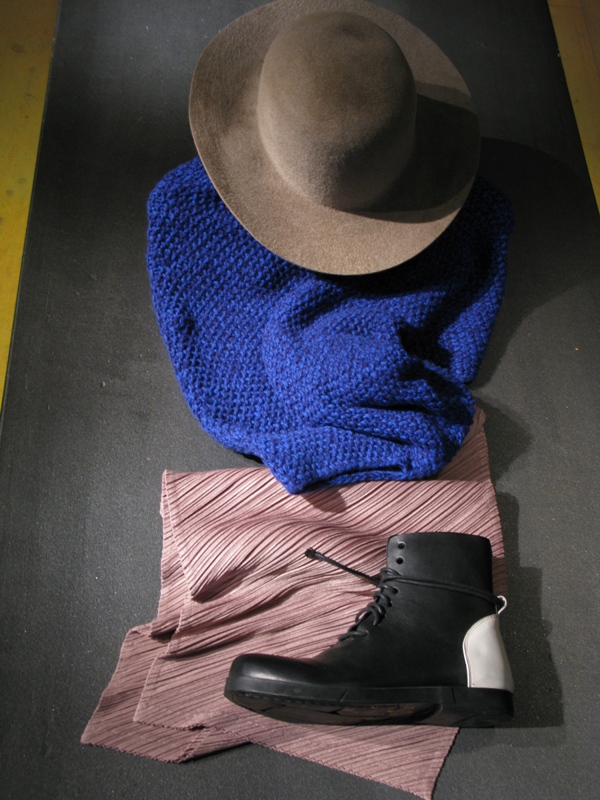 Fourth outfit: 'light grey' sweater Cosmic Wonder; 'beige' pants Pleats Please; 'black/white' boot Marsèll "goccia"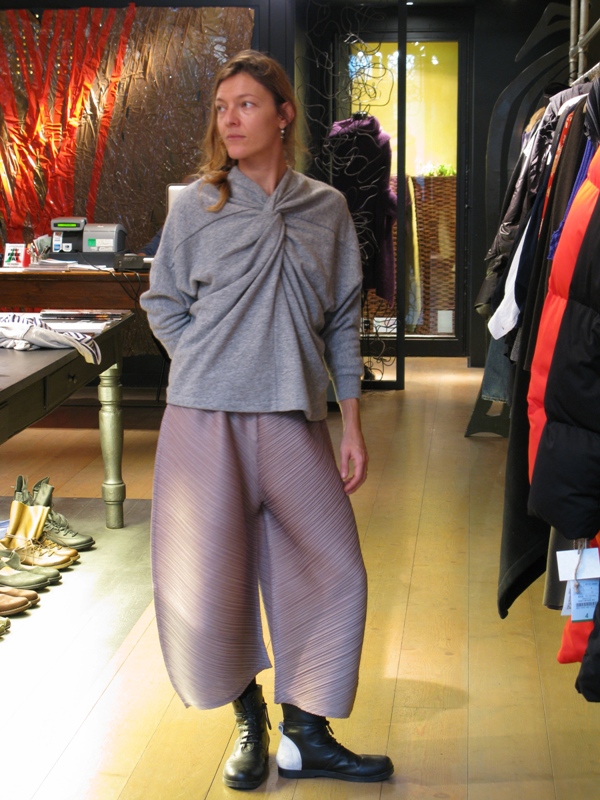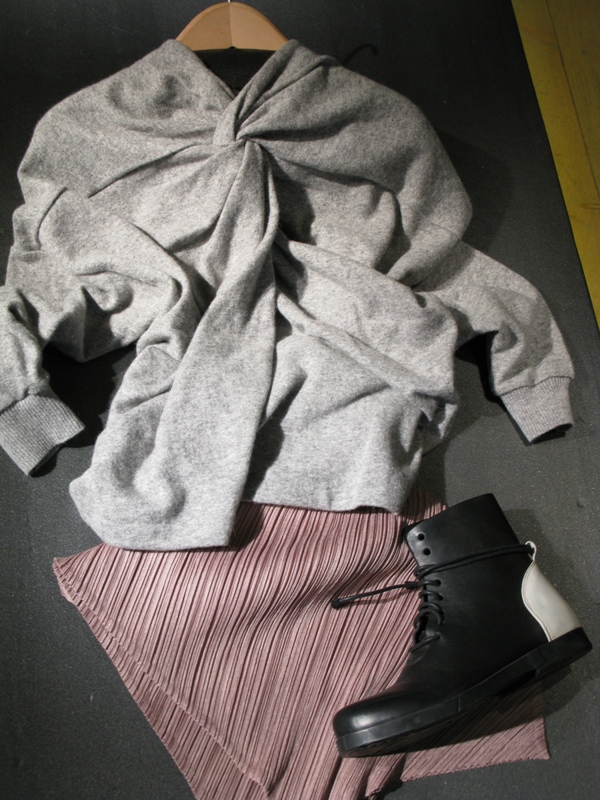 Fifth outfit: 'black' hat Nafi; 'cornflower' cardigan and 'black/nut' scarf Daniela Gregis; 'beige' pants Pleats Please; 'black/white' boot Marsèll "goccia"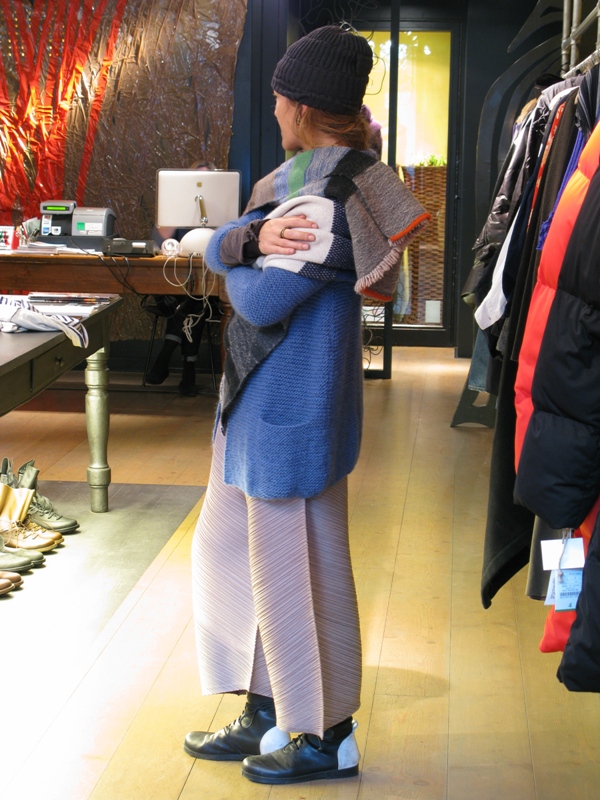 Sixth outfit: 'burgundy' hat Scha; 'black' blouson Sacai; 'chestnut' pants Pleats Please; 'burgundy' boot Trippen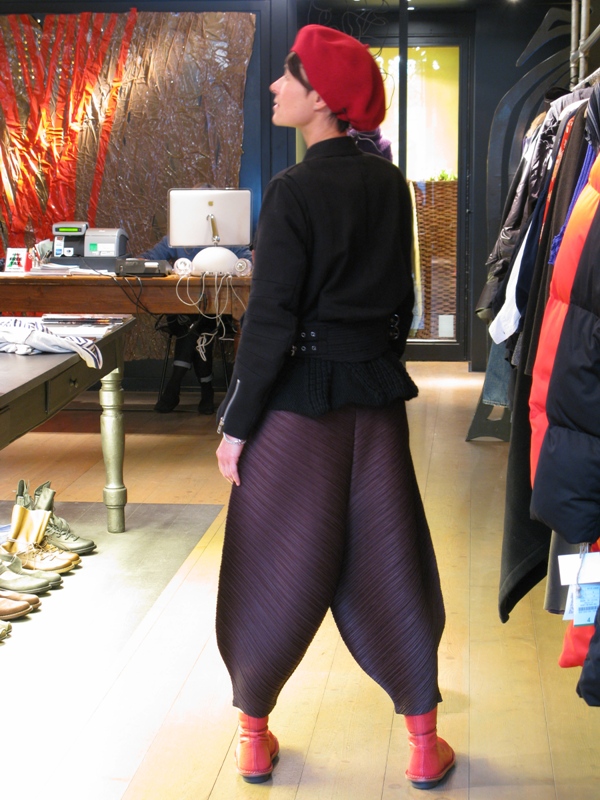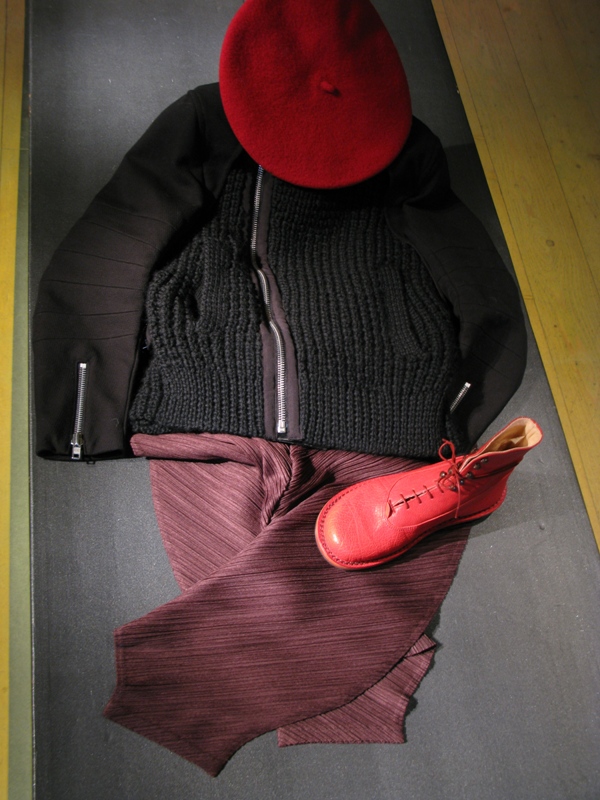 Seventh outfit: 'navy' hat Scha; 'indigo' jacket Junya Watanabe; 'green' scarf Cauliflower; 'multicolor' pants Pleats Please; 'blue' boot Trippen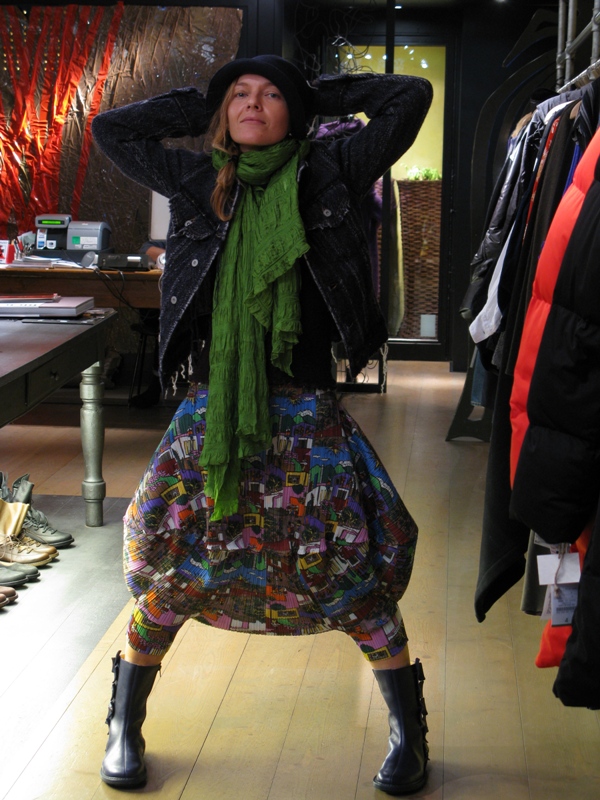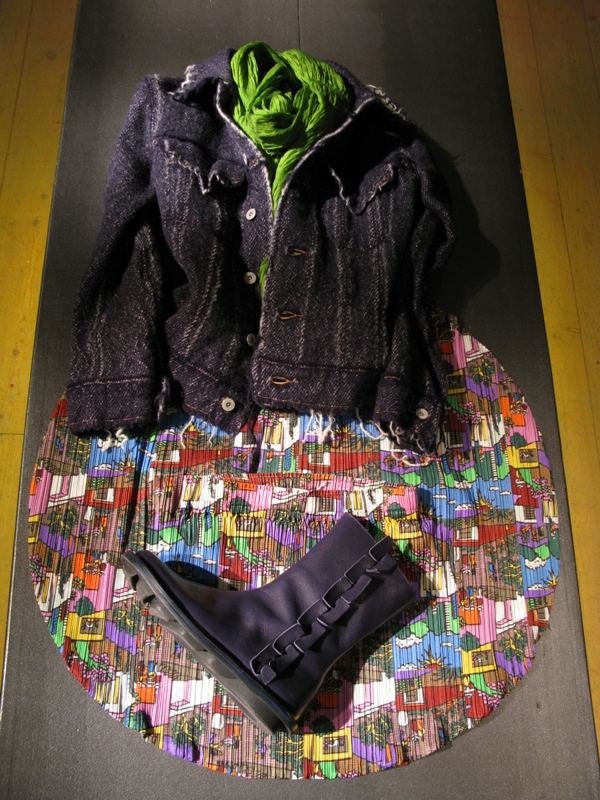 From Paris showroom, Pleats Please-Issey Miyake F/W 2011-2012, order of Ivo Milan


Read More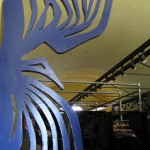 This piece was thinked to be published in a kind of magazine such as ELLE UK, one of the best fashion magazine, where articles used to talk about fashion differently from the ordinary publications. It is a magazine that keeps an eye on the most innovative trends and on the most particulare personalities.
This piece could be relevant for the reader to see how in Italy the attention is not focused only on the Italian fashion that everybody knows, but it is possible to find "fashion researchers" that really believe that fashion is not only buisness but, first of all, a non-stop innovation-seeking.
The Radical Fashion Shop
by Francesca Ferlin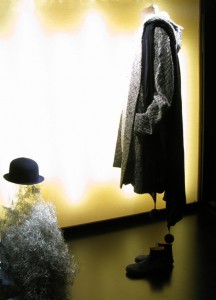 Orlando Milan has always believed that, in order to dress someone's body, you first have to dress his mind. This is one of the first things you should know when you visit his shop in Padua. IVO MILAN is located in the central Via Santa Lucia in a striking Romanesque house, currently the oldest civil standing building in town; even a quick first glance at the window reveals that this is no ordinary shop: dim lights illuminate a precious dress and suddenly it feels like being in a museum admiring a scuplture in a casket. The way that the windows are settled, the use of the lights, the mixture of the colours for the background, used to enhance the shapes and the shades of fabrics, are all clues that this is no mere fashion, as the attention is drawn to the art that springs from fashion.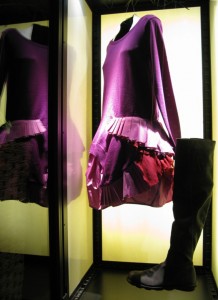 In 1945 Ivo Milan, Orlando's father, following his family tradition, opened his fabrics shop, manufactured clothes and named it after himself to distinguish it from his brothers' businesses which bore the same family name. In 1967 Orlando joined the father's company as a co-worker, and after his death, started the long work that made IVO MILAN the shop that is known nowadays. So this is supposed to be a traditional family-run business, where family values have gone from generation to generation and time seems to stand still. But Orlando Milan is not of this opinion: "Through these years we have always tried to maintain the values that my father taught me, the importance of the manufacture and the indispensable quality of the fabrics, but nowadays the guidelines of the shop are something new that I have built during this forty years of experience inside the fashion industry."

Milan's experience is a long path that has experimented various forms of fashion and arts, through the first Versace and Armani collections at the end of the 70′s (IVO MILAN was one of the first shops in Italy that started to sell these brands) to Japanese fashion, which in the last twenty years has distinguished this retailer from the others. Key brands that make this shop unique in its kind are Yohji Yamamoto, Junya Watanabe, Issey Miyake, Rick Owens, Martin Margiela, Shu Moriyama, Jun Takhashi and Comme des Garçons, the brand that best embodies the philosophy of the shop. Rei Kawakubo is a fervid supporter of trying to know what "has never been seen before", and this is the most important guideline that Mr Milan wants his shop to follow: nothing must be mass-produced and everything must be different from what one usually sees. This principle is applied to everything that concerns the shop, from its furniture to the selection process that goes on behind the displaying of clothes. In fact, the limited production and circulation of the labels sold in the shop exists alongside a specific principle which determines how to choose everything that will be sold. "This principle is one which takes into account the requirements of a very well-educated, niche Paduan clientele, whose taste has not been shaped by the influences of media and television, and whose interests lie in those very special purchases – in authentically creative ones, if not in ones with a strong artistic value" says the shop owner.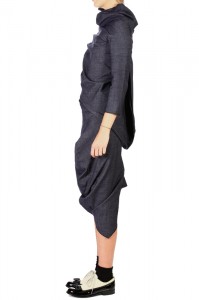 So the customers have to be open-minded and be endowed with a marked inclination for artistic values to understand IVO MILAN's fashion. Radical Fashion, as Mr Milan used to call it. This name has been adopted after the Radical Fashion Exhibition at the Victoria & Albert Museum in 2002, where the designers that Orlando Milan loves the most and has chosen to sell, were displayed in a collective exhibition, from Yohji Yamamoto to Comme des Garçons. "This exhibition really reflects my idea of fashion and these designers are, to me, the real essence of this concept." he states. "They are "radical" in the full sense of the word: they are "revolutionary" and they are "rooted" in the art. They cut through ideas as well as fabric. Challenging established views, they have committed their lives to seeking ever more demanding expressions of "beauty", with diverse and often provocative results".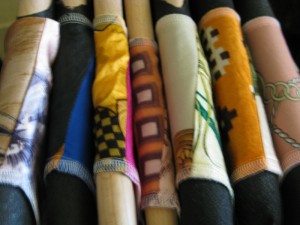 But which is his conception of beauty? Again, the inspiration comes from Japan: "The guideline that always has inspired me comes from the Japanese concept of beauty, that is "the aesthetics of imperfection" (wabi-sabi). I am against the logic of homologation and of display of wealth that inspires great European fashion, especially in these last years. I prefer to give my customers the possibility to portray themselves through an "understatement style" or with an idea-dress that draws the attention to the originality and to the independent spirit of the person wearing it."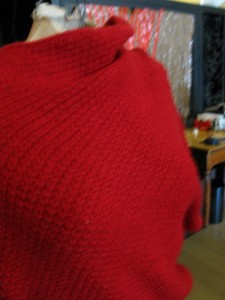 For IVO MILAN, fashion is something far from the conventional concept that everybody is accustomed to. First and foremost, fashion is research, is an exploration of the unknown. Here ideas come first, the most interesting part of a dress is not how it was made but why. What is it that lays behind the creation? How can a designer elaborate an idea and transform it into something that everybody can wear? These are only a few of the questions that Mr Milan wants customers to ask themselves as they wander around the shop. Because the most important thing is not to sell a dress but to make customers aware of what they are going to buy, something that stands over the trends, something that will rest forever as a unique work of art. And how is it possible to make the right choice, to find the piece that will fit perfectly and will be always with you? "Know yourself and let the dress be simply a continuation of your person".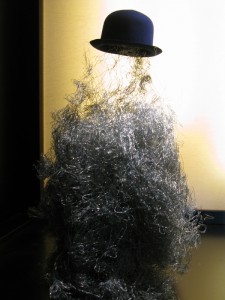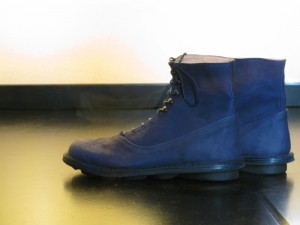 Read More